Parker Tide Cares: Together we can make a difference
At Parker Tide we care about helping others and giving back to our community. Knowing that together we can make a difference, we proudly support several organizations whose work improves the lives of children and veterans in need. Together with the commitment and inspiration of our employees, Parker Tide has provided organizational and financial resources to help make a difference in our communities.
Providing Support for The Bishop John T. Walker School for Boys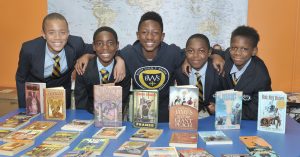 A tuition-free Episcopal school for boys from traditionally underserved communities, the Bishop John T. Walker School fosters a love of learning, intellectual curiosity, spiritual foundation, and moral character that each boy will need as a student and a citizen.  Working in close partnership with students and families, the School strives to create an environment where each boy is challenged to reach his full academic potential and receives support services which help to overcome barriers to achievement, including before and after care, three daily nutritious meals, health and dental screenings, and summer learning opportunities. The School strives to alter the educational and social trajectory of boys of color from neighborhoods east of Washington, DC's Anacostia River and prepare them for leadership and service in their communities and well beyond. Click here to learn more.